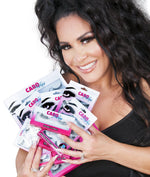 EYELASHES
My Collection of false eyelashes are completely made of natural hair, 100% handmade, without cruelty to animals.
They have a delicate line, easy to camouflage at the root of our natural lashes in any of their styles and sizes.
Super light, which allows you to use it throughout the day or night without irritating your eyes.
100% Reusable. The way of treatment and handling will define the useful life of each pair of eyelashes.
Designed and named to star in any character on the TV Show that you decide to create. Be your own protagonist on TV, on the phone, in your mirror, or to yourself. Transform at any time in your life. There are no limits to being different every day, no matter the age or the season. Get inspired, dare!

English
en
Español

es

English

en