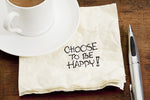 Well, many people will wonder about what we hear every day about the phrase that says "Happiness is an option" and it is logical to ask them in the midst of so much bad news and tragedy happening because we affect ourselves as human beings who suffer and feed on everything and how much is around us. But it is also true that everything and how much happens can serve to motivate us to be happy, to change something that we do not like about ourselves.
And although it is normal that the first days of a tragedy we are so moved that obviously we will want to do everything differently, but with the daily routine we forget.
That is the truth and even as the priest of my church says "there are people who only turn to God when they have a problem".
Here in the solitude of my room and wrapped in my warm sheets and wrapped in my thoughts, I only tell myself that true happiness is that which is felt daily even in the midst of sadness for some memory or moment that passes through our mind.
I personally choose to be happy, that is my only option, I cannot resist having people around who promote sadness or negativity. It can't be, I even tell them that when sadness knocks on my door I use it to drain, to do therapy and to remove everything that is inside at that moment. What's more, do you know what I do when I have episodes of sadness? I read, write and play music. Music is the best therapy in the WORLD world. So I suggest you choose to be happy because in the midst of so much reality it is worth being happy for something or someone.
#yoquetelodigo