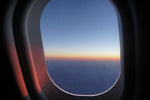 Sitting here in position 8 E of a flight that takes me home from a city that I did not think to visit because it was not on the itinerary, I think about what it means to win for some and what it means to win for others. Let's start at the beginning "Suelta la Sopa" is nominated for an Emmy, it is worth noting the most important awards on television or what is equivalent to an OSCAR.
Ok, having said this, I will tell you that the nomination of the program in which I am five years old just came out and for me that was the award for so many dreams involved in this journey to recognition. In fact my people cried when they told me we were nominated. That's when all the logistics coordination began to go to Los Angeles with the team to look for our award.
We arrived in California and well there we were all or part of the team that makes this well-seasoned soup possible. Some of us went with couples, others not, but here the beauty was the energy and the fulfilled dream of going to rub shoulders with the innate cream of American television. God for me that is called winning, but for basic or envious or "hater" people it is easy or fun that we lost by not bringing the emmy statuette to Miami.
In the awards presented by one of my favorite actors and host "Mario López" the magic of seeing me there was lived in my heart, in a few chairs from the novels that are more than my age on the air in which almost all of them have grown up its actors; there were the presenters of programs that I dream to go to even if it is public. And I come back and repeat there in the auditorium where the awards were held in Pasadena, California, little María Carolina Sandoval Guzmán was sitting, who always dreamed of doing television. And although I must admit that when I dreamed of television as a child, I dreamed of being recognized, I wanted to be asked for autographs and now I see everything so different. Now I understand that it is about being, feeling, living everything I do a thousand times.
So tell me if winning is not about doing what you love so much every day of your life. Then and then and again then tell me if we really did not win when we heard our name in the most important awards on American television? The program that won in the category we were nominated for was taken by a show called "Six Dreams" and to be honest I even like its name, I think after "Suelta la Sopa" it was the other name of the program that I liked. Also, although I have never seen the show, I now have a lot to gain from looking for information about these 6 dreamers. So I ask the question again, is it not winning ???
It is that the winning attitude is a lifestyle ... and not everyone assimilates things in this way and beware that everyone would like to take the statuettes to fill their windows and their ego, the truth is I accumulate memories, photos, moments and smiles. And most importantly, I am not interested in the "Basic" people making fun of what they consider winning or losing.
Targeting someone as a loser makes you a "loser" and in my case I have seen many not take the medal, trophy or jackpot and as they say per year sometimes "losing is won" as the saying goes ... As I am already talking a lot as always I invite you to ask yourself if you have a winning attitude or what ??? Because believe me nothing like living winning friends, smiles, experiences and more.