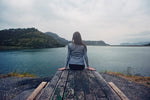 Friends for unrepeatable moments
Today one of those things happened to me that I call "that were written." One of those unrepeatable encounters with a woman with a sweet look and a wonderful story.
As I have already told you from time to time, I take a walk through one of the most beautiful churches and full of a particular magic of my beautiful city of the sun: Ermita de La Caridad del Cobre ".  
The fact is that while I was walking towards the boardwalk that adorns the church I saw a lonely lady, pensive and absorbed in her memories. I was struck by its peace and its connection with the sea. I confess that I even felt sorry for bothering her with my knack of wanting to take pictures of me everywhere, but after that photo we talked like two friends who might never meet again. Friends from church, friends from the boardwalk, friends for unrepeatable moments.
The story is that this lady with a pretty voice and blond hair observed the infinite, conversed with silence and gave life to that, she had changed her routine for the rest of her life. How incredible to talk with an absolute stranger and feel her so close.
The pretty lady told me that cancer had taken three of her loves. His father, mother and the love of his life, with whom he had two daughters, two granddaughters, thousands of dances on Saturday night and a total of forty-seven years together. It's easy to say, but actually my friend from the Malecón lived on time with her Jorge than with her mother, because she told me that a few days after she was seventeen she got married. Words more, words less is that those minutes talking with an absolute stranger so close made my day.
What a wonder what they call causality; How wonderful that of the exact minute or the appropriate moment. Today Olimpia taught me a lesson, she was unknowingly giving me one of those things that are priceless. But hey, what is clear to me is that life is that magic moment that we share with someone with whom we get along.
But hey, on Sunday Olimpia turns one year old as a widow, one year without her partner, that which we look for all our lives. Anyway ... IT WAS just that.