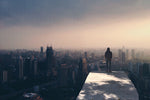 You never know when your word will help or destroy a person. You never know for sure what you leave in people and what your mission is in the life of the other.
During these last months, I don't know if because I'm about to start a new stage, I now have different resolutions.
It is clear to me that everything we do has a consequence and that definitely each person who passes through your life is for something unique and unrepeatable. It is also clear to me that now learning more from those who have lived longer than me is my reason for being.
Emulate all those who shine with their own light or lifestyle and be every day what only I want and understand that my world is. That which defines me as a human being and allows me to live and experience my moments more fully. Today talking about the news of a Christian Chávez I remembered once we met in some rehearsals for some awards and I saw his genuine smile and his simple way of getting along. Today perhaps that boy who made many dance and so many laugh is mired in his sadness or in his search and that is why I invite you to pray for the peace of mind and spirituality of all those who in some way or another have moments of weakness and encounters with your inner self.
Being famous does not take you away from the experiences of any normal being, quite the opposite. Being exposed to constant approval or disapproval is a challenge that each and every person who decides to live in this industry lives with. Let's be more compassionate, less intolerant, and think twice before passing judgment on someone else.