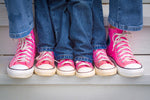 Around the world for the second time
Ok my loves, here I am thinking that sometime in my journalism classes they told me that one does not write how he speaks, but I cannot comply with that rule. I'm really sorry for my "Journalism I" teacher because I need you to listen to me when you read me ... can I explain myself? and that they feel when they read me that I am there next to them speaking face to face.
And well, for the reason that I am here today sharing my thoughts, it is because it is unusual that life directed by God is so perfect.
In these moments of my existence I am in two waters, yes, because my oldest daughter is in driving classes and my youngest daughter in swimming classes and I in classes on how to be better every day and not die trying.
Who would have thought that at 46 years old I would have this beauty of experience of reliving everything that I lived with Bárbara Camila 16 years ago and that now I am repeating it with my Amalia Victoria.
I am a very happy woman, I am sincere I do not change for anyone. And I only ask God to be a very funny grandmother when she touches me in several years. I want my daughters to be women of good living, who always touch their hearts in any situation and never forget my story.
Yesterday I was talking with my mother and I expressed my need to follow my father's legacy and hers. For me it is essential that my dolls know that love, patience and kindness as well as tolerance are the key to being able to live with the people around us.
Seriously my love is like that, just that, being a "person" is being human above all, because that opens hearts. I love you and I wish you a beautiful day !!!
#thingsquelepasanalasmamás
#things
# madred2