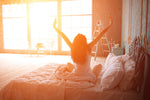 In those mornings when you wake up and think about when you are already retired and enjoying what you lived ... Those mornings where I talk to God and thank him for my health in advance ... Those mornings that I imagine Caro Sandoval, 60 and counting, and as the coolest grandmother in the world with my grandchildren loving me and laughing at my videos from the past.
I imagine having a granddaughter Camila Victoria or perhaps Carolina Victoria Jajajaj or Santiago Andrés, I am so creative imagining so many things and having the certainty that I will see everything because I want to take care of myself for that, I want to continue taking care of my soul, my emotions, my present for those days of old age.
In fact, I don't really understand why people don't like to imagine themselves older. What I really miss the most is to always continue celebrating my years in harmony with my painted gray hair and my girdles supporting my skin.
In fact, I am an inveterate dreamer capable of touching him tomorrow with my desires and I am convinced that it will. What I do ask of God is that my daughters have beautiful people by their side, that they vibrate like them and when I say "beautiful people" they are beautiful people from the inside out. Well I'll be there to see them if God allows it. And meanwhile I continue to see myself in my dreams.
Firm
An eternal dreamer
#things