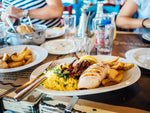 Going the extra mile is what guarantees success
On several occasions I have told you that in my move to the United States, like many, I had to keep my journalist degree for a while and perform different trades to be able to eat, pay rent, and, as someone say, get a taste of being an "immigrant" difficult thing of yes.
And although I kept dreaming and making merits in another place that was not my home to return to my career, the path has not been easy, but it has been satisfactory. And when I say satisfactory I mean everything I had to learn or remember.
In fact, from a very young age, my mother always told my sister and me that the job we would like to do in life we would have to develop effectively without mediocrity. And I bring that up in this my blog today because that shouting phrase from my mother got tattooed "if they are going to work as shoemakers, be the best, if they are going to be street sweepers, be the best"; and so on.
Yesterday I particularly remembered this because we decided to go to eat at a famous steakhouse and I really will not mention the name of the place because as they say "bad publicity is also publicity" and I will not advertise it under any circumstances.
I must begin by telling you that since we opened the door and entered the place I felt very uncomfortable, since the first sentence that five waiters said when they saw me enter with my little piece of light in the car was in unison "THE CAR CANNOT PASS". I swear to you and I think you already know that I become a maleficent when they mess with one of my daughters and it turns out that I felt that way.
Because although I can understand that because of space or whatever the cars could be uncomfortable, that was not the way to welcome some diners who selected their restaurant to eat there being so many restaurants in that area.
And it should be noted that the restaurant is not cheap at all. It is also important to note to be fair that the food is excellent, but as another saying I know also says "what you do with your hand you hurt with your foot."
To cut a long story short, after the unpleasant reception and having shown that the car became a car seat (car seat) because the stroller doona is high-tech and was designed exactly to offer that ease to parents. Only with a device that fulfills both functions, we sat at the table with the car converted into a car seat and began to look at the menu and see what we wanted to eat. My daughter and my mother decided on a well-cooked vacuum, one with chips and the other with rice and chips.
My husband after a demonstration of the different cuts of meat also ordered medium-term meat with vegetables. And after having a hard time, chopping some bread and drinking water and going to the bathroom, I made up my mind and ordered a chicken breast. My baby who was still asleep and all of us who had a pleasant conversation were surprised by a boy from the restaurant who insisted on taking some small plates for that space.
There I was also surprised because after insisting on keeping the small plate the boy also took it away because I think he did not understand my Spanish from Caracas.
Well, to get to the point, you can believe that when they start to bring the food the plates were gigantic, like to feed a family of 10 people, half to shame because seeing so much food I would think they are troglodytes.
Of course, and why did this happen because when ordering the food, there was no such thing as going the extra mile and putting yourself in the other person's place. It is not fair to me that an innkeeper does not suggest to his customers which dish would be more convenient. And be careful, it is not about money or that the food was bad, it is that it is not correct that in order to pay more they let you order so much food and that obviously a family of 5 members could never eat in one sitting. Anyway, lesson learned and I didn't want to go back to that restaurant ever again.
And what remains for me is to make my suggestions to the next visitors to the most famous steak restaurant in that area of Miami Beach so that they are more aware of how things are in the "crowded restaurant".
Well my loves and I conclude my writing today inviting you to always do what you can do to be remembered with a smile and not with a bad taste in your mouth.