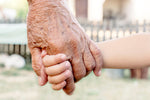 And do you remember your grandmother?
Today I woke up doing what I do every morning: I stay in bed, say a prayer, say our pass, and get up straight to the bathroom.
Of course, it's incredible how my grandmother's teachings were tattooed on my soul ... I can't get out of bed and step on the floor without flip-flops. It is that my grandmother said that it was bad for the chest to go barefoot and that is why even if you do not believe it, it seems to me something terrible to go barefoot and more in the morning!
It is that the things that one learns as a child are never forgotten. It does not happen to them ?? And I really am sincere, I thank God for having grown up with my grandmother María Lourdes, who told me her life and stories in an unforgettable way. I even tell them and it's like I can smell her or touch her porcelain skin. If there is something they knew her for, it was because of her beautiful skin and you know what? Really, the only thing she used all her life was Cream Ponds, in fact I remember her smell with the cream, it was a very clean smell of her. Another thing I remember about my grandmother was an altar, one that she had in her room where she kept all her saints and rosaries, she loved them.
But well, maybe because of what I'm telling you this is because there isn't a morning in which I don't remember it.
Adore your grandmothers, respect them and very importantly, let us instill in the smallest of the house love for them. In my case, I love that my daughters love my mother, in fact in raising my two daughters my mother is fundamental, her discipline, her values, which are what she instilled in my sister and in me, but hey, here I am telling you my morning thoughts.
You know I can't leave without telling you that my grandmother was a nurse, she was widowed at 23 while she was pregnant with my dad, and she had to raise her two children (my uncle and my dad). My grandmother was a working mother, but present. She was also strict and loving, she had the perfect mix and the most beautiful eyes in life. This was my grandmother one of the most beautiful and admirable women I have ever met and I will never forget.